In defence of risk-taking
Best Practice Network's managing director Liam Donnison discusses school leadership with Dame Alison Peacock, chief executive of the Chartered College of Teaching.
It's not often that pillboxes – those crumbling World War II-era military bunkers that you might stumble across on a country walk – feature in discussions about school leadership.
But for Dame Alison Peacock, chief executive of the Chartered College of Teaching, the structures play a central role in a story she tells that underlines the importance of headteachers having the courage to kick against perceived restrictions.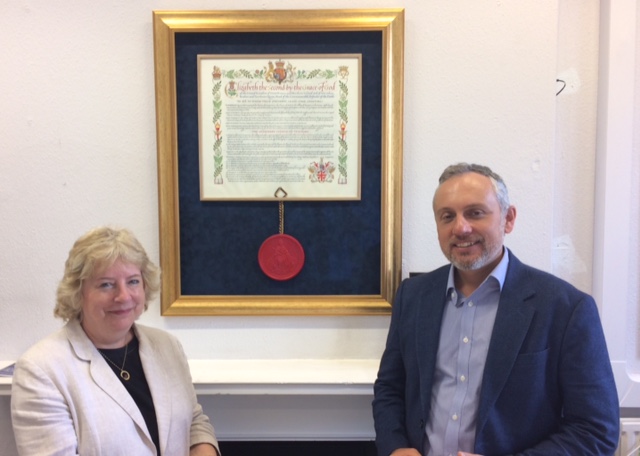 I met Dame Alison at the Chartered College's London headquarters last week and she relayed the story from her time as a highly successful head of Wroxham Primary in Potter's Bar, Hertfordshire.
"We'd hosted visits from the entire staff of a nearby school over a period of about three weeks and we'd been talking to teaching assistants about a World War II history project where we'd taken the children to visit a pillbox on a local golf course," she explained.
"When the third group of TAs visited one of them almost exploded with frustration when we started speaking about the pillbox project. She'd already heard all about it from the previous two groups. It turned out that right next door to their school there was also a pillbox but their headteacher was very resistant to their suggestions that they took the children to see it because there wasn't in his view any space or time to do it. It was too risky, too unknown, even though it was just the other side of the fence and would have been an easy way of bringing the children's learning to life."
For Dame Alison, the pillbox story illustrates the trap that school leaders risk falling into if they are not careful -  a trap of being too cautious, rather than exercising imaginative, risk-taking leadership.
"I think as a profession we often think there is a well-trodden path we have to go down. It is possible to break out of that," she told me. "But it needs courage and confidence."
Dame Alison says the confidence to explore and invent comes in large part from professional development. "I think the reason I felt confident to enrich how we approached learning was because I had done a lot of professional development, including a Master's," she told me. "I knew the things that we had to do, and having those under control left space for the inspiring things we could do - to unlock learning for every child. Professional development helped build that confidence."
This resonated strongly with me. So many of the thriving schools I have visited have a real culture of continuous professional development, which is exciting for staff and flows through to wonderful learning for pupils.
"The job for teachers is incredibly complex, challenging and never the same," she says. "Every child and every group is different. Something that works one day will not work on another. We need as a profession to understand what is difficult about what we do. CPD still tends to be shorthand for the staff meeting or INSET days. But I would say that CPD is also about everything we do to be the best we can be. That includes coaching, mentoring, reading, co-teaching, observing, lesson study and interactions with other professionals. You can't divorce professional learning from the whole notion of what it is like to be teacher or a leader."
I asked Dame Alison if she thought school leaders and teachers nowadays felt constrained by a kind of 'checking' culture. "Teachers are incredibly conscientious and they often have a sense that someone else has done things better - so they search for a magic bullet," she said. "This has been made worse over the last few years with hyper-accountability. Many professionals have felt that the reason they came into the job was being constrained, but the pendulum may now be swinging back, which is encouraging."
"Getting back to basic principles is important", she added. "I strongly believe the principle that every child can succeed at learning," she said. "There is a kind of magic you feel when you unlock that for a child. It means that you won't settle and will always try and find the way through for each child."
She believes that prioritising the things that matter and making a difference helps. "A lack of time isn't a defence. If we viewed everything that we as leaders are asked to do as important then we would sink like a stone. The job is like those broomsticks in The Sorcerer's Apprentice cartoon – it just keeps on coming. It's never done. So you have to focus on the priorities; on what will most make that difference."
Optimism plays a powerful role. In Dame Alison's excellent book Assessment for Learning Without Limits she talks of the importance of optimism. I wanted to know how leaders could strike a balance between striking a positive tone while seeing through the challenges with resilience.
"Positivity has to be authentic, which means looking out for something that has gone well," she said. "It's not a case of saying that the sky will always be blue. It's about taking a decisive approach and looking at how to find the best from a situation that aligns with your own goals and aims. Even in difficult times you need to have a sense of where you are going and celebrate small achievements along the way. When people do NPQH exercises around vision everything comes back to why are they doing the job they are doing and why they think this is important."
Liam Donnison is managing director of Best Practice Network, a national provider of professional development for the education sector, which aims to share great leadership and learning. Further information on our leadership programmes is available at www.bestpracticenet.co.uk/teacher-courses. More information about the Chartered College is at https://chartered.college/